One of Assisi's magical places. It's a little way out of town so tourists don't always get this far; we arrived at two p.m., the afternoon opening time, and were the only people there. One of the great delights is the walk downhill through olive groves.

History
A very sacred place, built over a Mithraic temple in the eleventh century as an oratory. By 1205 it was in ruins, and as such is the site of one of the most significant Franciscan legends; Francis came across the crucifix of San Damiano which spoke to him, telling him to rebuild his house. This is usually interpreted today as referring to the Church as a whole, but Francis took it literally and began to repair the little ruined church. The crucifix is now in Santa Chiara.
In 1212 Clare, her sister Agnes, and others moved here and founded the order of San Damiano. Francis visited the monastery and wrote some of his most significant works here. After his death, his body was brought here, before continuing to the small church of San Giorgio where Sant Chiara now stands.
Being outside the city walls, San Damiano was not the safest of places, and there is a wonderful legend of Saint Clare standing at the door visible below up in the facade scolding an unwelcome army. After some negotiations the nuns moved to San Giorgio and Franciscan friars moved in. In the twentieth century, Franciscan nuns returned to San Damiano.

On to the church, which has been much altered over the years. The crucifix is a copy of the San Damiano crucifix. Again, some battered but interesting frescoes: the lady below right is Saint Agnes, sister of Saint Clare. She is holding the Lamb of God.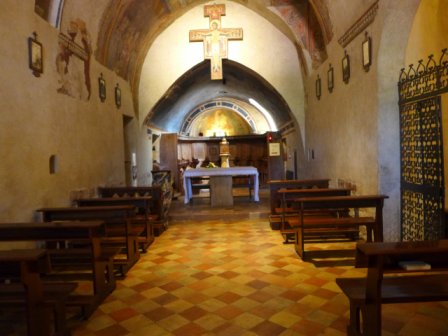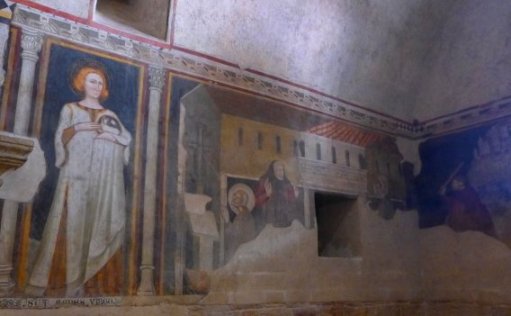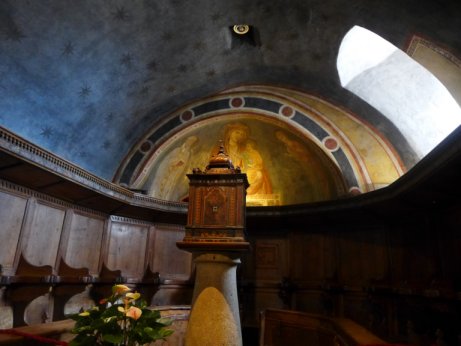 Below is is the Nun's Choir, built over a nun's graveyard. The crucifixion fresco of 1482 is by Pierantonio Mezzastris.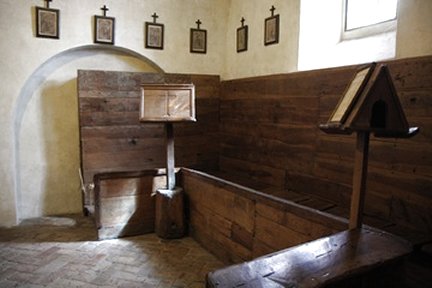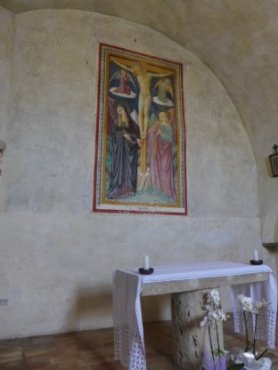 The route then heads upstairs, to the Oratory of St Clare.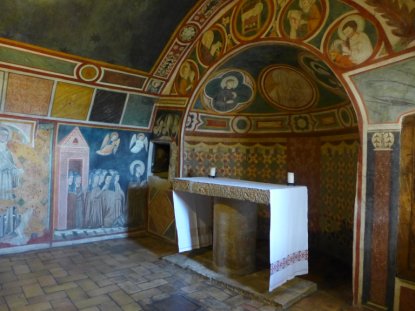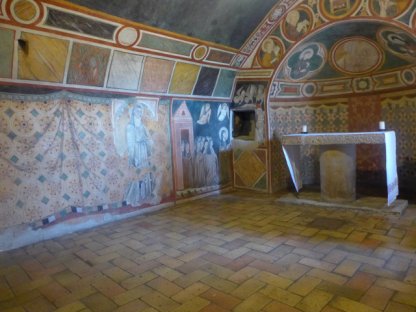 Then on to the dormitory; in this corner Saint Clare died.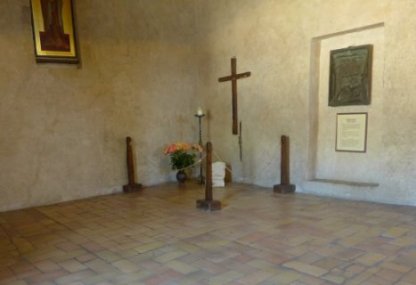 Dormitory: site of the death of St Clare
The route now heads out to the cloisters. . . .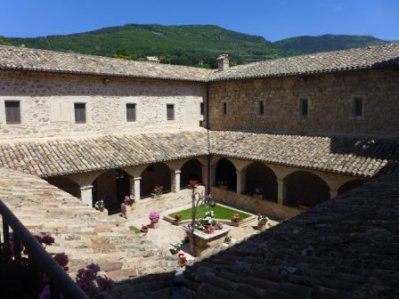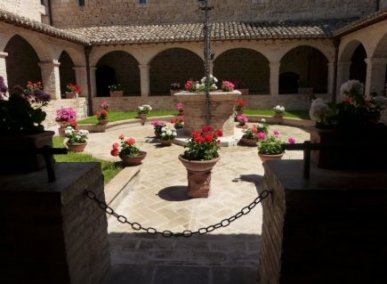 . . . and finally a peep through the door of the refectory with its Last Supper fresco.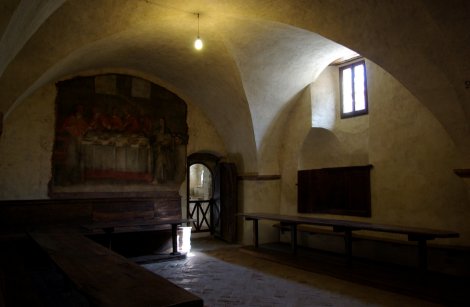 Assisi churches page 1 Sacred places - art in context home page Art-threads home page