History

When St Clare died in 1243 her body was taken to San Giorgio, an ancient church outside the city walls adjacent to the site of the present church.

Eventually, after difficult negotiations, the nuns of San Damiano moved there. In 1257 the building of Santa Chiara began. In 1260 the body of St Clare was buried under the high altar; then, as so often happened in Assisi, they lost it. It was finally rediscovered in 1850.

Exterior

The most striking feature is the series of enormous flying buttresses, added to the church in 1351 – this is an area prone to earthquakes, after all. The ones on the south side form part of the monastery. The campanile is the highest in Assisi, though not all is original - the conical top dates from 1926.

There are two splendid lions on the facade, on either side of the door.

Interior

From the start, the church was designed to accommodate pilgrims visiting the shrine of St Clare at the high altar. Compared with the Basilica of St Francis, the interior is quite plain and austere. This is due to the covering of the frescoes showing the life of St Clare with whitewash, by the local bishop in 1719. Maybe he had visited England and liked the look of those whitewashed English churches! The framework around the high altar, a pergola, is original and served to ensure the crowds didn't get too close. Some art has survived or has been rediscovered - see below.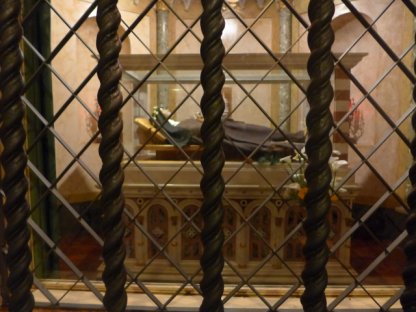 Tomb of Saint Claire
Art
Much of the art here is attributed to an unknown artist known, somewhat unimaginatively, as the Maestro di Santa Chiara. This includes the crucifix above the main altar, in Christus Patiens style, an interesting contrast with the Christus Triumphans of the San Damiano cross.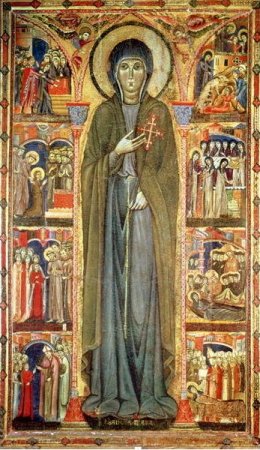 Scenes from the life of St Clare c 1282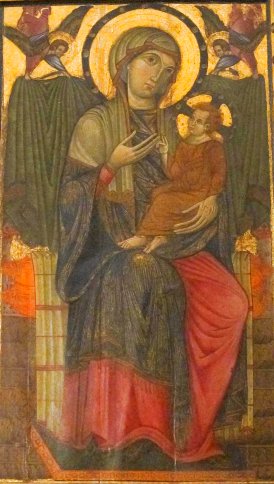 Madonna and Child c 1265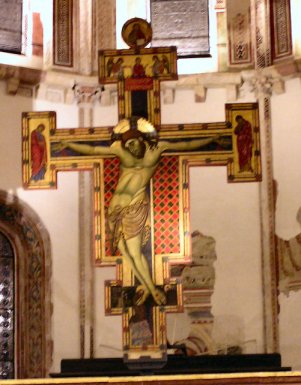 The remaining frescoes are somewhat later, and attributed to Palmerino di Guido , who is also known as the Maestro Espressionista di Santa Chiara. Probably the best surviving fresco is in the vault crossing. This shows The Virgin and St Clare, Saints Agnes of Rome and Agnes of Assisi, Saints Catherine of Alexandria and Margaret (or possibly Mary Magdalene); and Saints Lucy and Cecilia.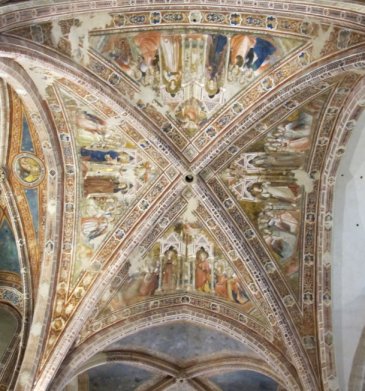 Assisi churches page 1
Sacred places - art in context home page
Art threads home page