St Sepulchre-without-Newgate, London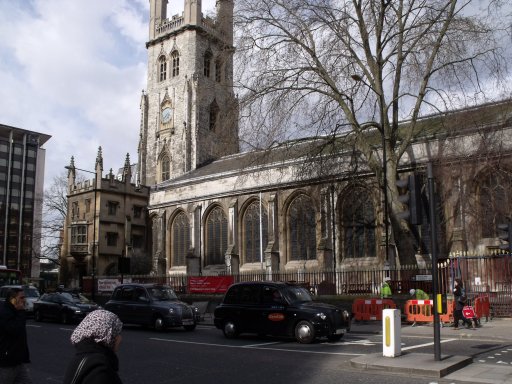 This may seem an odd church to choose. There are a number of round churches in England, such as those at Cambridge, Northampton and London - the Temple church - that are, if not modelled on, at least inspired by, the rotunda of the Holy Sepulchre in Jerusalem. This church has suffered many calamities over the years, and was gutted in the Great fire, and its appearance has never resembled the Jerusalem church. What makes the story of this church special is its location.

History
The London Encyclopaedia tells us that the church was founded in 1137 and was dedicated to King Edmund the Martyr. It was built just outside the city walls near the North-Western gate, Newgate. This location mirrored that of the Holy Sepulchre in Jerusalem, and for that reason it was considered a good place to commence a journey to join a crusade, no doubt with appropriate ceremonial in the church. At this time the 'St Sepulchre' dedication was added, though I think there is an additional reason for this name change.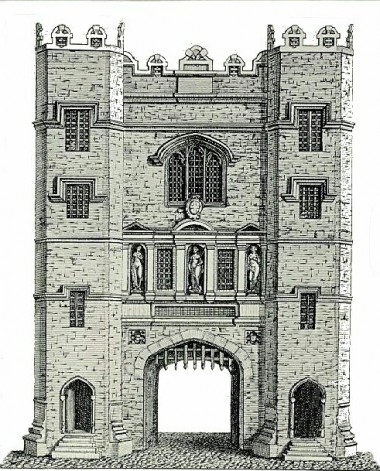 Newgate: Gate and prison

Not long after the establishment of the church. Newgate was built. From 1188 it functioned as a prison; it was rebuilt in the fifteenth century, burnt down in the Great Fire, was rebuilt, was extended in the eighteenth century, and was finally closed in 1902. In 1196, Executions began at Tyburn, a three-hour ritualistic journey from Newgate past the church, which was a stopping place on the journey. Those crusaders would not have missed the parallels with the Christ's journey to Golgotha.
In 1964 a stone from the Holy Sepulchre in Jerusalem was presented to St Sepulchre. Those crusaders would have been delighted.